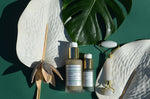 Today's everyday life is often unpredictable. It is fast, stressful and restless. Not uncommonly do people find themselves eating an unhealthy lunch in passing or eating sweets and snacks in between their regular meals. Our body absorbs this stress and all these unhealthy, toxic constituents. In the long run, this way of life will affect the health and condition of your body, skin and ultimately the way you feel, which is why detox cures are becoming increasingly important in the beauty and health society.

There are numerous ways to maintain good health and rid your body of toxins. Fasting, drinking only juices for several days or drinking warm water with lemon juice on a regular basis are just a few ways to rid your body of toxins. Nazan Schnapp herself loves drinking lemon juice every morning: It is a great day starter, flushes out toxins from the body and boosts your metabolism while also improving your digestion. And it is so easy!
Yet, however much we try to live healthily and maintain a fit lifestyle our skin needs detoxifying treatments. Especially, if you live in a city or workwise spend a lot of time there, the smog will clog your pores and leave negative effects on your skin. Or if you have the habit of touching your face during the day – and let's be honest, we all do that sometimes - there is always some microscopic dirt that gets into the pores. If not detoxified or cleansed properly, your skin will lose its glow and become lackluster.
To prevent that from happening, Nazan Schnapp has developed a detox cure for your skin alone: the Detoxing Jade Collection. This nurturing collection consists of the Detoxing Exfoliant Cleanser, the Detoxing Jade Mask and the Signature White Jade Face Roller. So every step of the way to a vibrant and detoxified skin is covered!
The Detox Cure for your Skin
The Detoxing Jade Collection is a blend of various natural ingredients that detoxify and refresh the skin, giving it a new radiance. It is perfect for every type of skin, even the most sensitive one. Its name originates from one of the key ingredients, the green mineral "Jade". The Jade Stone is known as highly calming and encouraging lymphatic drainage.
The Face Roller in

NAZAN SCHNAPP™ 

collection is made of pure and carefully chosen Jade Stone:
Use this beautiful roller on a regular basis and you will feel your skin glow up and become more elastic. The Signature Jade Roller will increase blood circulation, therefore also the level of oxygen. The oxygen in turn allows your skin to release toxins.
The Detoxing Exfoliant Cleanser is a gentle daily exfoliator. It contains anti-inflammatory, natural exfoliating, cell-renewing and brightening ingredients:

For a clean, balanced and hydrated skin. It does not only cleanse, detox and calm your skin, but it also gently exfoliates with organic Musk Rose Hip Seed Powder to smooth and polish dead skin cells away leaving skin feeling and looking fresh.
Light and powerful – The Detoxing Jade Mask is perfect against impurities, it deep cleanses pores, exfoliates and calms inflammation:
Multiple extracts from exotic fruit, such as pineapple, papaya and pomegranate, remove the outer layer of the skin which trap unwanted bacteria and oils. Moreover, this light-textured mask tightens the pores and reduces the risk of scarring, all while moisturizing and protecting the skin.
What is behind Nature's Gifts?

How do the natural ingredients bring about all these effects? And to which ingredients do we owe which effects? In the following, we would like to explain some of the exotic ingredients used in the Detoxing Jade Collection – in a little more detail.
Pineapple
An important ingredient in the Detoxing Jade Collection is the exotic and sweet pineapple. It is not only delicious and healthy to eat, but also has a fantastic effect on your skin. 

Pineapple makes your skin glow up and soften. It contains a whole lot of vitamins and minerals your skin can benefit from. 
Aside from that, the yellow fruit is rich in alpha-hydroxy acid. This is a plant-derived acid, which sheds off dead skin cells and therefore lets your skin shine in a new splendor. What's more, the natural acid lightens age marks and sunspots, reduces wrinkles or even makes them disappear completely.
Pomegranate Enzyme
As several studies have shown, the pomegranate is a truly impressive fruit with myriad benefits for your health and your skin.
 
The pomegranate is a strong antioxidant, which means it helps prevent your skin from ageing. However, the most important constituent for our Detoxing Jade Products are the various natural acids in this wonderful fruit. Amongst them is salicylic acid, which penetrates into the skin pores and detoxes it from the inside by exfoliating dead skin cells. It also reduces oiliness and lightens undesirable pigmentations. 
French Green Clay
French Green Clay – also called Sea Clay – is a very much praised ingredient for detoxifying treatments on the skin.
It is very rich in minerals, such as selenium, phosphorus, magnesium, iron and many more. Therefore, it nourishes your skin with precious trace minerals.
French green Clay is also known to remove impurities of the skin and absorb oil, which is great for skin prone to acne and for clogged pores. However, that is not all French Green Clay does: It is reported to increase circulation in the skin, calm inflammations and tighten pores. This results in a smooth and fresh skin tone.
These were just three of the many precious ingredients in Nazan Schnapp's Detoxing Jade collection, working together to free your skin of toxins and impurities. Let your skin feel as light and pure as nature has given it to you – take care beauties!