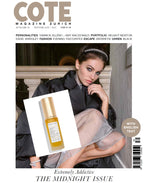 COTE MAGAZINE | 06th January 2021
Luxury commodities such as gold, pearls and precious stones increase in price,
especially in times of crisis. They are also very trendy again in cosmetics.

 

Using gemstones in their products. Nazan Schnapp from
Zurich, whose care lines can be found in many a Hollywood
bathroom, also relies on the healing powers of stones for her
sustainable luxury cosmetics.