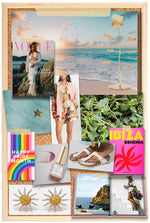 "Happy June! Happy Pride Month everyone!
As June is the month of LGBT pride and in this hemisphere the month the "holiday" season kick-off, my inspirations, recommendations, celebrations, and picks of June are:
The June/July
Vogue France issue
is all about Mediterranean. 
Vogue France, Vogue Italia and Vogue España have pooled together their creativity to celebrate the Mediterranean. Yay!
The jewelry stand that I bought myself just a few days ago, as I am a lover of Gizeh in pastel colors gold and silver of Birkenstock since ever.
Purslane – my fav vegetable - season start (ingredient of
Purifying Creamy Cleanser
 and
Purifying Mask
) and I am very sad as I cannot eat whether raw nor cooked yet as I am not in Turkey at the moment.
My fav jewelry designer and the earrings that I want to buy myself asap. Citrines help for MONEY, SUCCESS, FAME and GLAMOUR.
"Ibiza Bohemia" to read and get inspired, as Ibiza is a nice and not that far away holiday destination with beaches surrounding the island. Excited for July!"
Color: all colors of the rainbow.
Interior:
Metal jewelry stand made from recycled aluminium by
H&M Home
.
Book:
"Ibiza Bohemia" by
Assouline
.
Sandals:
Birkenstock
 Gizeh vegan Birko-Flor Nubuk in light rose.
Accessories:
 pair of earrings of citrines and grey diamonds by 
Yvonne Leon
.
Vegetable:
 purslane.
Beauty:
 Sublime Hydrating with rosequartz.
{Image credit:
Vogue France
, 
Farfetch
, Oscar de la Renta, Birkenstock, Yvonne Leon, Assouline, H&M, and unknown.}