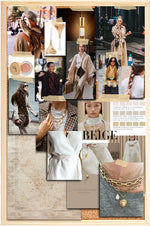 Prepare yourself and your mind for the winter! It is not cold yet, but it started getting cooler in Europe even just a little bit. And not because of my latest brand innovation the Signature Cryo Facial Tools :) with their unique convex curved base and their ergonomic shape of the sticks perfectly adapt to the contours of the face and neck and allow them to mold of your face and neck for a thorough treatment. 
But also "blackouts" are expected this winter due gas shortages, so pull out all of your warming accessories ladies and gentlemen.

I'm sure you, like all of us, have some scarves, wraps, fake fure pieces, hats and gloves. Doesn't matter the material wool, silk, synthetic - important is "how to style" and "wear" them. This month I will share some tips and tricks as well as ideas "how to revive" the accessories at home that I curated for you. How to combine other accessories such as belts, necklaces, hair accessories and so on and so forth.

Fall means starting to wear "darker" colors and we say mostly goodbye to bright colors especially to white... not me! I do like to wear "whites" and "ivories" also during winter. It is possible, as soon as you know "how to combine".
Luminous Youth Diamond Essence and Self Respectful shade for the post beach holidays anti-aging treatment as well as for a bright and illuminating skin.
Color:
 ivory to beige to gold to light brown
Wardrobe: trenchcoat
Interior: beige carpet with vintage look Zara Home
Accessories: belts, scarves, necklaces, ponchos - more is more
Location: fashion week cities