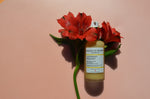 Now that summer has finally arrived and more of your skin gets exposed, you want to up your skin care game by going below the neckline. 
A very warm and sunny welcome! Meeting you here leads us to believe that your daily skincare routine is as advanced as it is conscious. That said, there's a good chance that it mostly focuses on your face. Let's take a curious look inside your bathroom cabinet. What is the ratio between creams and potions for your face and body care products? It is probably the exact opposite of the surface the skin covers on your face and limbs.
Don't get us wrong, we're not saying you need to buy a huge number of body care products. It's rather about a qualitative understanding of your skin's needs. The skin on your body -especially on your hands and décolletage, which are exposed throughout most of the year- is subjected to the same environmental stressors as your face. That's why not only does a more holistic approach to skin care make total sense, but also products that meet the same high standards as your facial care.
As light as they are, NAZAN SCHNAPP™ body care products are packed with the same active ingredients that moisturize, firm and strengthen the skin of your face. Take the beautifully silky LIGHTWEIGHT TREATMENT BODY LOTION, for example. It is formulated with Acmella Oleracea, also known as Paracress which tightens and stimulates collagen fibres, thus enhancing the skin's density. And who wouldn't want those problem areas to be visibly firmer and smoother? Not to mention the radiant softness those deeply moisturized limbs owe to a beautiful bouquet of antioxidant-rich botanicals such as Tiaré flower, Evening Primrose, Orchid, Lotus, Jasmine and Magnolia. Linden flower, camellia and witch hazel are intensely soothing after a long day in the sun and colloidal gold acts as a booster of all these amazing benefits.
Nazan loves to mix her body lotion with one of her body oils, with or without shimmer, depending on her mood. Both, the LIGHTWEIGHT TREATMENT GLOWING & HYDRATING BODY OIL as well as the LIGHTWEIGHT TREATMENT SHIMMERING BODY & HAIR OIL are nourishing and ultra-hydrating blends of the finest Orchid and Jasmine botanical extracts and precious oils of organic Camellia, Jojoba, Sacha Inchi, Milk Thistle, Chardonnay Grape, Apricot, Sweet Almond and Evening Primrose. The heavenly light and fast absorbing formula permeates into the deeper layers of your skin, leaving it lastingly hydrated, glowing and soft, with a velvety touch. Both oils are also fabulous as a nourishing and moisturizing treatment for summer hair, giving it gorgeous texture and taming flyaways.
Whichever of the NAZAN SCHNAPP™ body products you choose as your companion through a delightful summer, they will all seduce you with their beguiling, fruity-floral, slightly exotic, slightly spicy bouquet of fragrances. It embraces you all day long into the night and makes a perfume -that doesn't get along particularly well with the sun and a sultry climate anyway- superfluous.
Enjoy the unrivalled NAZAN SCHNAPP™ skin sensation from head to toe and have an unforgettable summer!