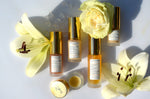 True Diamonds. Truly Luminous. Truly good for your skin.
It is a widely known wise saying: "Prevention is better than cure". Nazan strongly believes this also to be true for the youth preservation of our skin. We should always take care of ourselves the best we can. Therefore, not just anti-aging skincare is the solution, but also youth preserving skincare. Often, it is difficult to find products that are not too intense for the younger skin. Skincare that is made to preserve your youth and not reverse the aging processes.
This is where the Luminous Youth Diamond Collection can help. The whole collection is dedicated to preserving your skin's youth in a gentle and enjoyable way. Nazan has formulated five different luxurious masterpieces by combining only the best of nature's treasures with modern technology - creating highly effective cleantech beauty treatments that are simply luminous. Find out about the secrets of this fountain of youth by NAZAN SCHNAPP™ , beauties.
The Small Giant
Puffy and wrinkly eyes are not an option, if you use this particular masterpiece from NAZAN SCHNAPP™ . The Luminous Youth Diamond Eye Crème is a luxury treatment that speaks for itself. Apply just a drop of the silky Crème on the delicate eye area and you will see and feel the effects immediately. You will actually feel your skin tightening and lifting. 
The Luminous Youth Diamond Eye Crème will make your eye area brighten and revitalize it from within. The minerals contained in this small giant will increase the elasticity of your skin and hydrate it profoundly. If used regularly, you will never look tired again. Dark circles and under-eye bags will never bother you and wrinkles and fine lines will fade away.
Nazan combines low sized and high sized molecular hyaluronic acid in the Eye Crème. The high sized acid takes care of your skin surface, while the low sized acid can penetrate deep into the skin and ensure a long-term effectiveness and youth preservation. Moreover, the Eye Crème contains extracts of various precious flowers, which results in the luscious, flowery scent. Active Cells of the Tuberose, a flower with hydrating and anti-inflammatory properties and real Diamond Powder are also part of this silky crème.
Shine like a Diamond
The diamond powder contained in all the the Luminous Youth Diamond products smoothens and tightens the skin. It opens skin pores, which helps other healthy nutrients to sink into your skin. At the same time, it exfoliates your skin deeply and is good against different kinds of breakouts.
Simply put, the Diamond Powder is like a real-life beauty filter. As the diamond powder on your skin reflects the sunlight, the ultra-fine pigments convert the sunlight into blue and green light. It gives the skin a natural shine and makes visible pores or wrinkles optically disappear – this is the so called "blurring effect". Unwanted skin shine is absorbed by the diamond powder and the skin looks more even, which results in a healthy complexion. 
Effortlessly Beautiful
To make your complexion even more radiant, one NAZAN SCHNAPP™ masterpiece should always be within your reach: The Luminous Youth Diamond Essence. Apart from diamond powder and hyaluronic acids it contains a beautiful bouquet of white flowers and plant extracts.
They are all blended by hand in our in-house laboratory to create this highly efficient and luxurious Essence. The careful production and above all the precise formulation by Nazan herself, are the key to a rehydrated and glowing skin. If used regularly, this skincare jewel will slow down your skin's ageing process significantly and permanently. All you need to do is to spray a few pumps of the flowery Essence on your face every day. Be beautiful – effortlessly
As the Essence contains so many different extracts of flowers, its scent is utterly enchanting. White Lily, Lotus, Gardenia, Frangipani and White Mulberry are some ingredients that create the floral, warm scent with a hint of honey. All while caring for your skin, hydrating and smoothening it to a perfect complexion. A very special ingredient, however, should not be left out, as it is main component of the Essence…
…The Rosa Alba
A beautiful and romantic flower, the Bulgarian White Rose or as said above the "Rosa Alba" is indispensable for the Luminous Youth Diamond Essence. Rose Water is full of natural antioxidants and the most precious vitamins for your skin. Anti-inflammatory and anti-bacterial properties in the rose water make it a perfect ingredient even for the most sensitive type of skin. Even if you have especially dry skin, this main ingredient in the Luminous Youth Diammond Essence can help. It will support the regeneration process of the skin, have a very calming effect on and provide intensive hydration.
What's most astonishing, is that rose water has anti-aging effects of its own. It will gently smoothen the skin and add to its elasticity. Combined with all other powerful ingredients in the Essence you could only imagine what this masterpiece can achieve... Or you could try it right away…
Revolution for Your Skin
For the full Luminous Youth Diamond experience only two masterpieces are left to present to you. The Luminous Youth Diamond Day Serum and Night Serum. These two beauties guarantee the best care for your skin – day and night. The Luminous Youth Diamond Serums are light, potent, ultra-hydrating and delicate formulas. They combat the most common signs of aging, lift, plump and protects the skin from dehydration. As all the Luminous Youth Diamond masterpieces they prevent the skin from ageing and reduce wrinkles or make them disappear completely.
While the Day Serum protects the skin from sun damage, oxidation and other elements that our skin fights against every day. At night, it's time for your skin to regenerate and renew its skin cells. This is where the Luminous youth Night Serum comes into use. They contain 26 highly effective extracts of various plants and more.
For the regeneration process of the skin, Nazan uses a revolutionary technology in these Serums. They contain actual plant stem cells from the Gardenia. These stem cells stimulate the production of new skin cells and speed up the regenerating process of the skin. If you are curious how exactly these stem cells work and how they're obtained, check out our blog article "The Gardenia – Beautiful Inside and Out".  
The Secret on Your Windowsill
However, there is another component inside these serums, which may be interesting to know about. We all know this flower as we love to keep it on our windowsills: The exotic Orchid Flower!
But what effects does it have on your skin? Nazan has formulated the Luminous Youth Diamond Serums with the extract of the Wild Orchid. Orchid has been used in Asia for centuries for its reparative and protective properties. They are very well known for their moisturizing properties, fighting free radicals, increasing skin immunity and reducing the appearance of fine lines. It is ideal for all skin types and is rich in minerals, which also exist naturally in the skin, for example zinc, calcium, magnesium, iron and copper. In addition to that, sugar and polysaccharides help to seal in moisture. This will make your skin look even healthier and give it a fantastic glow.
Sunshine in a Flacon
The beautiful Orchid flower is also part of another Luminous Youth Diamond product… the Jasmine Orchid Youth Protecting Face Oil. This sunny yellow face oil is like an everyday full SPA-treatment for the dry and stressed skin. Of course, Orchid extract is not its only precious ingredient. Camellia Seed Oil, Jasmine Flower Extract, Squalane and many more work together in order to reinforce the skin's barrier. They make it resistant to external influences, maintaining a healthy complexion and hydrating your skin. This contributes to the youth preservation.
However, the youth preserving effects of the flowery Jasmine Orchid Face Oil are significantly increased with one special ingredient: Actual leaf cells of the Jasmine flower. These active plant cells are effective in the top layer of your skin, the epidermis. The single cells support the regenerating process of your skin, which is central for the youth preservation. Fascinating, isn't it?
Your Personal Extra Sparkle
Now, we've told you everything about how to maintain a perfect glow and healthy, young skin… So, it's time for some color with the wondrous Luminous Youth Diamond Lip and Cheek Balms! Four balms of different shades are named after the characteristics of our founder Nazan Schnapp: "Self Respectful", "Self Aware", "Self Confident" and "Self Reliant". Three more Balms are also part of the Collection. The Luminous Youth Diamond Lip Balm is a colorless treatment for your lips, while there is also the Luminous Youth Diamond Sheer Bronzer and the Sheer Highlighter Balm.
With all these different Balms a base is laid for your make-up. The Balms can altogether be used as lip balm, cheek balm or even eye shades, as all the ingredients are 100% natural – just like every other NAZAN SCHNAPP™ masterpiece.
The Luminous Youth Diamond Lip and Cheek Balms do not only look fabulous, but they care for your skin at the same time. They are filled with precious ingredients that are high in antioxidants and contain an essential amino acid, which has lifting and pluming effects. And don't forget the Diamond Powder for the extra care and sparkle!
With all these beautiful masterpieces by NAZAN SCHNAPP™ prevention is made pretty simple, right?
Experience the effects of Nazan's formulas at first hand right away here, beauties!