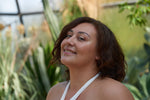 Are you courious about Nazan's skincare routines? Then we are happy to share her morning regimens.
MORNING 
Nazan loves to start her day with a daily portion of Aquamarines and a gentle microcirculation with the Detoxing Exfoliating Cleanser. For best results she applies 6 to 8 pumps with using her fingertips directly to dry skin and massages gently to activate the enzymes and polish the skin. Finishing by rinsing thoroughly with warm water. Our cleansers are also facial treatments.
As next step, Nazan is using the Regenerating Gel Cleanser - one of her favourite cleansers. She loves to apply 6 to 7 pumps with using her fingertips directly to dry face, neck and décolletage and massages gently in circular motions to activate and foam. After rinsing thoroughly with warm water, you can feel how smooth the skin is.
Spraying a few spritz of May Rose Face Mist for a fresh and balanced skin, Nazan moves on by spraying the Sublime Hydrating Treatment Essence for daily glow and dose of smoothing hyaluronic acid. Nazan's Rose Quartz Toner provides refreshing hydration, antioxidant protection, and high moisture with natural humectants Gotu Kola, Rose de Mai, Peony, Hibiscus. Rose Quartz enhances the skin cells and encourages a natural renewal process. 
Nazan loves to use face oils and finishes her daily routine with the lovely aroma of Jasmine Orchid Face Oil like tons of Jasmines and Orchids - also White Magnolia Face Oil, by closing your eyes you think, you are walking under Magnolia trees on a spring day. The Jasmine Orchid Face Oil is her daily face oil for the spring and summer. This delicate and luxurious face oil hydrates, moisturizes and softens all skin types, gives it a radiant and natural glow. On freezing cold fall and winter days with a typical Swiss weather, is the White Magnolia Face Oil her ultimate companion. The antioxidants rich White Magnolia Face Oil provides Vitamin A from organic Musk Rose Fruit Oil from Chile and with plantderived Q10. Organic Evening Primrose to moisturize dry skin and help anti wrinkle, Omega 6 and 7 as well as Vitamin C from organic Sea Buckthorn, Pomegranate and White Magnolia. This oil renews cells and rejuvenates dry, damaged and dull skin. The Celestine Face Oil with its herbaceous and Rose aroma is Nazan's soothing and balancing miracle cure.