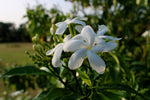 At NAZAN SCHNAPP™, we love all the flowers and always seek to bring the best of the flowers to you and your skin. One of these natural treasures is the Jasmine Flower, the extract of which you will find in various NAZAN SCHNAPP™ products. Find out why this flower is so precious and how it benefits your skin, beauties!
Nocturnal Beauty
A signature characteristic of the beautiful bright white Jasmine flowers is the exhilarating smell most of the flower species have. It has a sweet and rich flowery smell and is said to be one of the strongest aphrodisiacs. This might be the reason why it symbolizes sensuality among many other things like love, beauty or good luck. Depending on which culture you look at its meaning varies. Just like the flower has numerous meanings all over the world, there are diverse variants of this flower - in total over 200! In our products you may experience two different kinds of Jasmine: the Arabian Jasmine (Jasminium Sambac), which blooms at night and the Royal Jasmine (Jasminium Grandiflorum).
The Multi-Talented Flower
The Jasmine Flower has been used in many ways throughout history. If you're feeling down or you're lacking in motivation, a Jasmine aromatherapy may help. It has a warming, relaxing and antidepressant effect and will make you feel more self-confident and optimistic. However, make sure not to use it in high doses, as too much Jasmine can lead to headaches.
Probably you already know about Jasmine Tea, too. Its production is very challenging as you can't just use the dried flowers as tea. Instead, green tea is used as a base for Jasmine Tea. The flowers are handpicked while they are blooming, one by one between 3am and 10am. This is when they have the strongest aroma. After they're picked, the flowers are usually laid on or mixed with green tea so they can transfer their wonderful aroma on the tea leaves. This process is repeated up to six times for the perfect aroma. 
A Tranquilizer for the Skin
This sweet scent of the Jasmine Flower is also part of the NAZAN SCHNAPP™ Products. Numerous products contain the extract of the little white flowers. About 714 kilograms of flowers, that is about six million jasmine flowers, are needed for just one kilogram of Jasmine Extract! Incredible, right? Although, the scent is certainly not the main reason why Nazan uses these nocturnal beauties in many products. What's most fascinating is the positive effect they have on your skin. Jasmine is known for its antiseptic and anti-inflammatory properties. It treats skin gently but very effectively, which is why you can use it for any skin type. Even if you have problems with eczema or acne, Jasmine can help. As seasons are changing our skin is more stressed. That's when Jasmine oil is especially useful. It will replenish the skin with a natural moisture and restore its vitality. That's not all: Jasmine even has anti-ageing effects and increases the elasticity of your skin, all while giving it a wonderful glow.
Single Leaf Cells
Just like with the beautiful Gardenia, Nazan goes one step further when formulating with Jasmine. The Luminous Youth Diamond Night Serum even contains leaf cell extract of the Arabian Jasmine. So actual single cells of the plant are inside the serum – isn't that fascinating? These leaf cells help your skin rebuild and regenerate more quickly and effectively for an even stronger anti-ageing effect.
You can experience this miraculous beauty of nature and all its benefits on your skin in the following products: