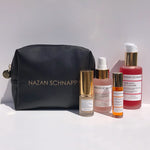 We (maybe) all love travelling, but we need to take care of our skin. When Nazan travels she needs some of her absolute NS essentials, she can't live without.
Sublime Hydrating Treatment Essence is Nazan's ultimate travel accompanion to stay hydrated during take off, taxi and landing. It's gorgeous blend of natural, antioxidant-rich, potent ingredients refreshs, hydrates, soothes, and protects skin as well as encourages the skin's natural renewal process through Rose Quartz. Smoothing low molecular Hyaluronic Acid and natural humectants like Gotu Kola, Rose de Mai, Peony, Hibiscus and Aloe penetrate into deeper layers of the skin and help skin retain moisture throughout the day for a radiant, fresh and hydrated look. 
 As she loves to use the Luminous Youth Diamond Eye Crème daily to protect, lift and brighten her eye contour area. It's silky, ultra-hydrating formula which combats the most common signs of aging, protects the delicate eye area from dehydration and reduces the appearance of darkness and under-eye bags. This luxurious and comprehensive eye treatment, formulated with Diamond Powder and a special blend of minerals, gives the eyes a revitalized, brightened, lifted, and firmed look while hydrating and increasing elasticity of the skin. The Luminous Youth Eye Crème can be used daily to prevent and to eliminate the appearance of fine lines and wrinkles, dark circles and fatigue.
The Jasmine Orchid Face Oil is a delicate and potent, youth protecting serum and moisturizer in one that hydrates and shields the skin. The skin-repairing and perfecting properties of moisture-rich Camelia, Orchid and Jasmine aid in reinforcing the skin barrier, increasing skin's immunity and improving cell communication resulting in a radiant and healthy tone. This delicate and luxurious face oil hydrates, moisturizes and softens all skin types, gives it a radiant and natural glow.
Travelling with the perfect natural glow beauties you need to put them all together in our NS signature vegan leather pouch.
Do you know our travel sizes? We love our face oils with their stainless steel roller balls in 10 ml glass bottle, easy to use and great to massage your face by applying. As well as our 50 ml Sublime Hydrating Treatment Essence and May Rose Toner. We are planning some more travel sizes to share with you very soon.