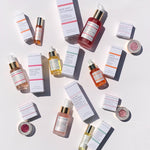 Whether you're spending your time water-side or desk-side (we hope it's more of the former than the latter), your skin needs some special care during the hot summer months. The change in climate and presence of summer-specific aggressors can quickly lead to your skin feeling rough and dry and looking worse for wear. We have compiled our list of Top 3 Summer Skincare Tips and recommendations to keep your skin healthy, glowing and hydrated during these long and hot days. Happy Summer!
Xoxoxo,
Nazan Schnapp
HYDRATE  |  HYDRATE  |  HYDRATE
All of the organs  need water to function properly and since our skin is the largest organ of our bodies, we need to make sure it's properly hydrated. Drinking at least 1.5 to 2 liters of water a day will help your skin look fresh, healthy and glowing.

To switch things up a bit, we love infusing our water with ingredients like lemon, cucumber, mint, lime, strawberries, oranges, grapefruit, frozen berries and cinnamon.
PROTECT  |  YOUR  |  SKIN
Since the sun stays out longer and is a bit stronger during summer months, it is especially important to keep your skin protected from damaging and pre-maturely aging UVA/UVB rays. We love using our NS face oils, all rich in Vitamin A - which helps reduce and reverse sun damage, together with sun cream to safeguard our skin daily.  Applying sun protection on the skin at least 30 minutes before exposure is key as well as physically blocking sun rays with hats or sun umbrellas.  
PRACTICE  |  SELF  |  CARE
It's so important to remember to take time for yourself and for your skin year- round, but the summer months can do a real number on our skin and bodies. Not all schedules and budgets allow for monthly trips to a spa, but no matter. We are big fans of DIY and love mixing and matching our products for relaxing and refreshing at-home treatments. We'll be sharing some favorite customized NS facial treatments here very soon.
Not only is it a delicious fruit which transports our minds to beautiful, tropical places, Pineapple contains  many benefits for the skin. Pineapple enzymes gently exfoliate the skin by dissolving dead skin cells leaving skin texture smoother, clearer with a restored healthy glow. Rich in Vitamin C and antioxidants, its anti-inflammatory and free radical damage repairing qualities also make Pineapple a beloved ingredient at Nazan Schnapp. Pineapple is found in our:
Detoxing Exfoliant Cleanser | Regenerating Gel Cleanser | TEASER- COMING SOON: DETOXING JADE MASK
Need help customizing your summer survival set? We are happy to help!
Email us at:
customerservice@nazanschnapp.com