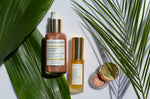 For all who wants to extend their summer these three products are perfect post summer companions.  
SHIMMER IN DARK GOLD 
With the Lightweight Treatment Shimmering body and hair oil, the first thing you notice is the warm, deep golden colour. The oil has a flowing, glittering texture and has a rich smell. The scent can be described as sweet-floral and exotic, which is the result of the mixture of numerous nourishing flower extracts. The Lightweight Treatment Shimmering Body and Hair Oil also contains shiny minerals that make the skin shine in the sun. Like every product from Nazan Schnapp, the body and hair oil contains only natural ingredients. Extracts of various flowers and plants such as orchid, jasmine, camellia, sacha inchi, apricot and jojoba not only provide a summery scent for the skin, but also nourish it at the same time. The Lightweight Treatment Shimmering Body and Hair Oil does not only look beautiful, but also hydrates the skin in the long term, which is perfect for hot summer times.

FOR A REFRESHED COMPLEXION
Practical and effective: This rosy-warm scented essence is a must for every beach bag. The Luminous Youth Diamond Essence has a pump spray, making the summery refreshment particularly quick and easy to apply. A mixture of white flowers and diamond powder cares for the face inside out. The white rose (Rosa Alba) provides moisture, stabilizes the pH-value of the skin and has an antioxidant effect. The diamond powder smoothens, tightens and rejuvenates the skin together with the low-molecular hyaluronic acid. The diamond powder also plays an important role on the skin surface. The particles reflect the sunlight in such a way that the complexion gets a natural glow and evens out.


APRICOT-LIKE SUPPLENESS 
The Lip and Cheek Balm in the colour "Self Respectful" is a real all-rounder. Just like the essence, it is part of the Luminous Youth Diamond collection. The Lip and Cheek Balms are available in four different colours, whose names all describe the characteristics of the founder Nazan Schnapp. Whether as lip balm, cheek rouge or highlighter - the golden-apricot tone "Self Respectful" is suitable for everything. The colour looks natural and has a soft shine. Active, botanical ingredients such as camellia, coconut and orchid extracts care for the skin and lips. Natural amino acids have a plumping effect on the lips and smoothen wrinkles, and in summer light the diamond particles shine especially beautifully.