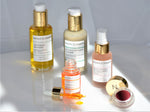 Hello Autumn!
As the seasons change it's time to reevaluate what's going on with your skincare routine. Although I use all my products year round, I tend to change up the time of day in which I use them. During cooler months, my skin absolutely loves and eats up richer textures. I especially love using my Lightweight Treatment Body & Hair Oil as a daily leave-on body treatment directly after showering and an overnight hair treatment for my scalp and hair. It re-hydrates and softens from head to toe with a beautiful bouquet of organic oils, Chardonnay Grape, Apricot, Jasmine, Orchid, Evening Primrose and Poppy. It's my ultimate luxiourous and indulgent treat at the beginning and end of each day. Keep reading to learn more about Lightweight Treatment and my Top 5 Autumn Skincare Tips.

Wishing you and your skin a gorgeous season!
 
Xoxoxo,
Nazan Schnapp
LIGHTWEIGHT TREATMENT BODY & HAIR OIL
The Lightweight Treatment Body & Hair Oil is a light, fast absorbing, nourishing and ultra-hydrating blend of the finest Orchid and Jasmine botanical extracts  and oils of organic Camellia, Jojoba, Sacha Inchi, Milk Thistle, Chardonnay Grape, Apricot, Sweet Almond and Evening Primrose. This heavenly combination permeates into deeper layers, restoring a healthy and lasting moisture from within and leaving a glowing, soft and velvet touch.
Camelia: cell-rebuilding, plumping, hydrating, collagen-boosting
Chardonnay Grape: rich in Vitamins C, D, and E and toning and tightening properties
Milk Thistle: anit-inflammatory, anti-oxidant rich, cell regenerative
Meadowfoam Seed Oil: super-sustainable ingredient, quick-absorbing and creates a barrier to lock in moisture, high anti-oxidant compostition
Sacha Inchi: considered to be the richest plant-based source of essential fatty acid and vitamins, hydrates, maintains elasticity, promotes smoothness and suppleness
Apricot Kernel Oil: prevents moisture loss from skin and hair, smoothes skin, regulates oil production
Lightweight Treatment Body & Hair Oil is a wonderful moisturizing treatment for dry, dull skin and dry ends of hair as well as a hydrating, soothing and restorative scalp treatment.
1.  Soothe Stressed Skin - The change in seasons can stress our skin and lead to strange reactions and irritation. During this transitional period, I love to calm and balance my skin out by replenishing it with soothing and strengthening ingredients like Aloe, Gardenia, Gotu Kola and Bisabolol. My new Regenerating Amethyst Mask contains these and many more super-ingredients and is the perfect skin treatment to relieve and relax stressed-out skin. I love using it 2-3 times a week during the change in seasons or anytime my skin needs to re-balance.

2 . Transform Your Makeup into Treatment - A drop or two of facial oil mixed in with foundations can not only sheer out the coverage, but it also adds all the amazing benefits of the oil's ingredients into your makeup. In colder months, our skin usually needs that extra boost of hydration or protection from products that stay on our faces all day. I don't wear foundation but have always subscribed to the theory that your makeup products should be beneficial to the skin - which is why I created the Luminous Youth Diamond Lip and Cheek, Bronzer and Highlighter Balms. These balms are not only beautiful, they are packed with potent, moisturizing, youth-preserving ingredients.

3. Supplement Your Skin with Vitamin D - The summer sun is gone and with it goes our main source of Vitamin D. Vitamin D is an intergral part of our body and skin health but is not commonly found in plant-derived ingredients. It has strong anti-inflammatory properties and helps prevent skin damage and premature aging. Most of my products contain Camelia Oil which is a deep-penetrating oil that is rich in Vitamin D and in cell rebuilding nutrients. 

4. Make the Most of Nightime - I love an overnight treatment. More often than not, there doesn't seem to be enough hours in the day to get everything done and practice the self-care our bodies so badly need and deserve. Many years ago, I realized I could be making the most of the time spent sleeping by incorporating overnight treatments into my life. As already mentioned, I love using the Lightweight Treatment Body & Hair Oil on my body, scalp and hair as an overnight rehydrating and smoothing treatment. Any and every one of the NS face oils make for a rich, exquisitely rejuvenating facial treatment. 

5. Do NOT STOP Using Your SPF - Although we don't feel or see the sun as much during the autumn months, that doesn't mean that harmful UV rays are gone. Protecting your skin from sun damage is a MUST year-round. I formulate my products with skin-protecting and damage-reversing ingredients such as Camelia Oil, Rosehip Seed Oil and Jasmine Extracts, but never leave home without a physical sunblock protecting my skin.